When your oldest child begins high school, you may never have heard of the acronym, "EFC" before.  But by November of their senior year, most families of college-bound teens are not only familiar with the term, they likely know what their EFC number IS.  In general, most families feel that it's too high.  But what does that EFC number actually mean?
Let's start with the basics.
What Do The Letters EFC Stand For?
EFC stands for Expected Family Contribution.  This is the amount that the government says that you can afford to contribute (for one year, not in total) for your child's college education. According to FAFSA, it "is a measure of your family's financial strength, and is calculated according to a formula established by law."  It is supposed to be a reasonable estimate of what a family's financial responsibility for college should be.  The reality is that there are some significant shortcomings to the formula and these days, middle income families are often the ones that struggle the most with their EFC.
What Factors Affect Your EFC?
In order to arrive at your EFC, you must first complete the FAFSA (Free Application for Student Aid) form online.  The information you provide on the FAFSA, which will include your previous year's tax return, will affect your EFC.  Presuming your student is a dependent, it will include your assets like savings accounts, as well as benefits like social security, and of course, your income.  It will also include your student's savings, benefits and income.   It will take into account how many people there are in your household, as well as how many of those people are enrolled in college.
Your EFC will not be affected by money you have saved in 401K or IRA retirement accounts.  It will also not be affected by your outstanding debt, from your mortgage to car loans to credit cards.
Your income and household members are easily the factors that will have the biggest impact on the your EFC.
It's important to know that you have to fill out the FAFSA for each year your child will be in college, using your tax return from the previous year.  For this reason, you should anticipate that your EFC number may vary from year to year.
How Long Does It Take to Receive Your EFC Number?
After completing the FAFSA, it generally does not take long before you will receive your SAR (Student Aid Report) electronically.  I find that the closer to October 1st that you fill out the FAFSA, the quicker you will receive your report.  (Incidentally, the colleges you list on the FAFSA will also receive your SAR.   Don't worry if your student has not sent their application yet!) Your EFC will be listed as a number that can be translated into dollars.  For instance, an EFC of $15,000 will be listed as 015000.  An EFC of 0 would be listed as multiple zeros.
What Does Your EFC Impact?
As far as financing college – everything.  Colleges will use it to calculate your financial need.  They will subtract your EFC from the Cost of Attendance and that bottom number will be considered to be your financial need for that college.  Some colleges have an institutional formula that they use and will tweak the federal formula in minor ways, and if they have further information, they may even adjust your EFC on your SAR.   Most importantly, your EFC will impact how much and what kind of federal aid your family qualifies for.  That list includes:
Federal Subsidized Student Loans
Federal Perkins Loans
Federal Work Study Programs
Federal Pell Grants
Federal Unsubsidized Student Loans (This isn't really affected by your EFC, however you DO have to fill out the FAFSA in order to receive it.  The interest will accrue while your child is in college)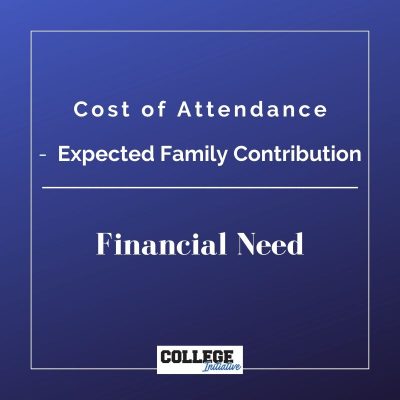 Some states will also use this information for various state financial aid programs.
Is Your EFC the Amount You Will Pay for College?
Not necessarily.  More often than not, when your EFC is less than the cost of attendance for your student, the college still does not have the funds to meet that need.  Often, families are left with a "gap," even after financial aid is applied.  This is obviously discouraging.  There ARE colleges that promise to meet 100% of a family's financial need, and many more that will meet more than 90% of their need, but the majority of schools can only afford to meet about 50-60% of their students' financial need.  This is when families often look around for academic merit aid and scholarships to help fill that gap.
Can I Appeal My EFC Amount?
Not really, but kind of.  You cannot appeal your EFC number with the government.  However, if you know that there are factors that the FAFSA just did not take into account when calculating your EFC, you can potentially appeal to the college.  Perhaps, you lost your job in recent months and that is not reflected in your previous tax return.  Or maybe some major medical expenses have popped up that the FAFSA did not take into account.  You may reach out to the college financial aid office and let them know that there are extenuating circumstances that were not factored in to the EFC calculation.  It's ideal to do that earlier, rather than later, giving the college a chance to factor that in when allocating financial aid funds among the incoming accepted students.  Expect that the college will likely request documentation to support your appeal.
For more information about how colleges will calculate your family's financial aid, and what your bottom line will be, please visit How Much Does College Really Cost?